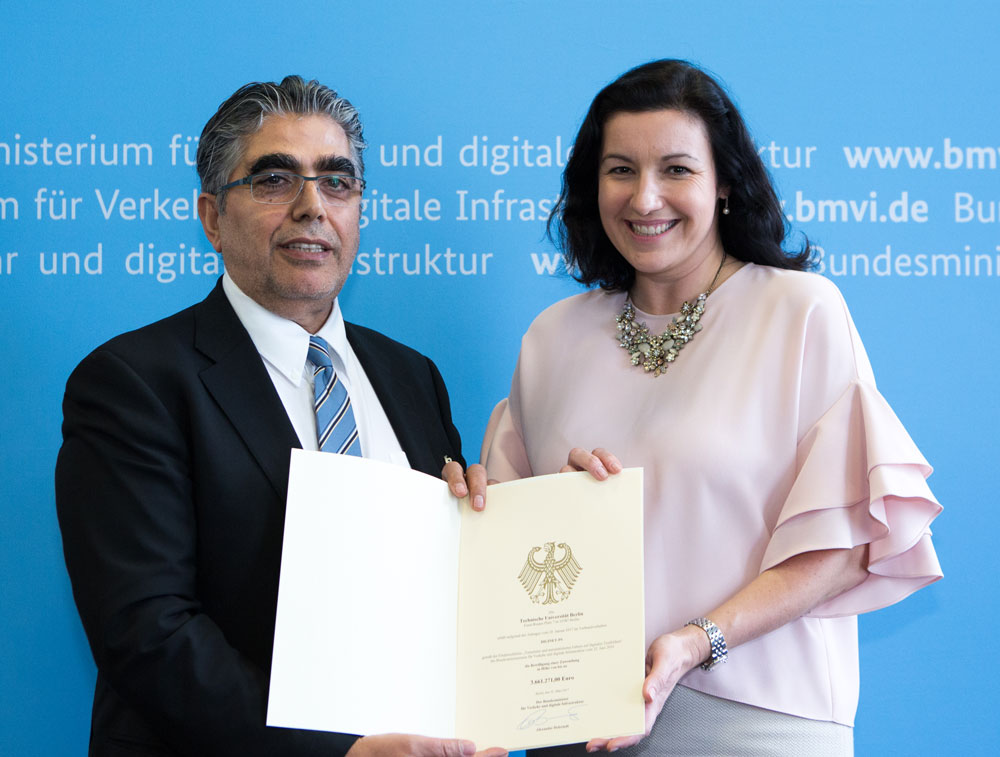 Digital test track between Ernst-Reuter-Platz and Brandenburger Tor
As part of a festive event, the Parliamentary State Secretary Dorothee Bär, MdB today handed over the funding decisions for the project DIGINET-PS.
In Berlin, a digital test field for automated and networked driving is being developed. Along the Straße des 17. Juni between Ernst-Reuter-Platz and Brandenburger Tor, it will be realized as part of the new research project "Digital Networked Protocol Route", DIGINET-PS for short. Sensors provide huge amounts of anonymous data, from which intelligent information can be used to obtain important information. The project is managed by Prof. Dr. Sahin Albayrak, Department of Agent Technologies in Operational Applications and Telecommunications, and Managing Director of the DAI Laboratory, TU Berlin. The Federal Ministry of Transport and Digital Infrastructure supports the project within the "Automated and Connected Driving Strategy" of the Federal Government. The TU Berlin will receive 3.7 million euros over a period of 27 months.
The Straße des 17. Juni will become a digital testing ground to explore automated and connected driving.
In the center of DIGINET-PS are future technologies that improve traffic flows, protect the environment and create new value added. In order to be able to develop, test and evaluate these innovative solutions in a realistic manner, an open framework is necessary that reflects the challenges of today's society and incorporates current problems. For example, automated and networked vehicles are used to implement scenarios such as automated shuttle and convoy journeys in urban areas.
Thanks to the special characteristics of the innovation location Berlin-Charlottenburg, DIGINET-PS can serve as a reference solution for complex traffic situations in urban areas. In addition to the course of the Straße des 17. Juni, the test track also includes the adjacent northern roads, thus providing some challenging challenges for networked vehicles and digital infrastructure. In addition to a characteristic of urban space traffic management and typical parking situations also include the consideration of monument protection, environmental protection and urban design.
By establishing an open system, the impact of DIGINET-PS is not limited to the specific goals of the project, but involves various actors from research, politics, industry and society. In the future, the track will be usable as a test environment for well-known players in the automotive industry and for technology companies that want to grow in this area.
With DIGINET-PS we are breaking new ground in systems research for automated and connected driving in our cities. The goal is to develop a flexible and holistic solution for all related technologies to map and test automated driving in all its complexity. In doing so, we will include a wide range of vehicles, from the connected car to the autonomous bus. We are happy about the support from the BMVI ", says Prof. Dr. Sahin Albayrak.
In addition to the TU Berlin, Fraunhofer FOKUS, the Daimler Center for Automotive IT Innovations (DCAITI), T-Systems International and the Berlin Agency for Electromobility eMO as well as numerous other implementation partners such as Cisco, TÜV Nord and BVG are involved. The project is being supported by the Berlin Senate Department for the Environment, Transport and Climate Protection.